Unusual COVID-19 Symptoms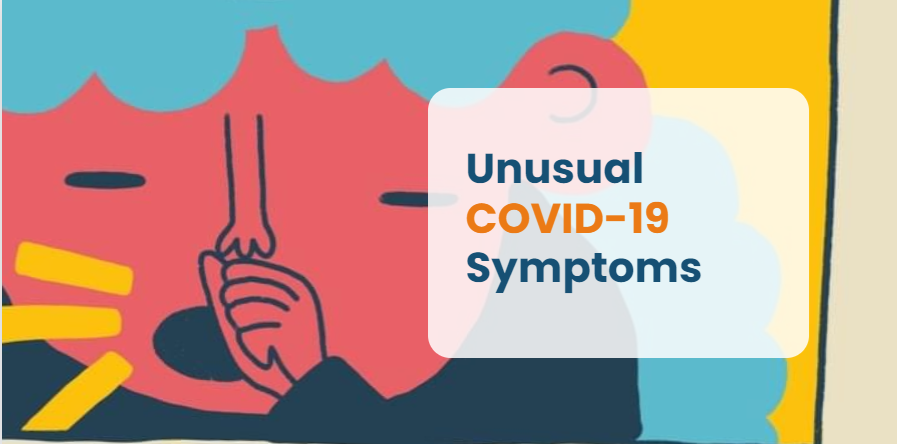 You may be aware that the most common symptoms of COVID-19 include fever, dry cough, fatigue, loss of appetite, loss of smell, sore throat, and body ache. But did you know that other symptoms are also associated with COVID-19?
The following is a list of associated symptoms with COVID-19 but typically don't appear in a symptoms checklist. If you are experiencing any of these symptoms, regardless if they are related to COVID-19, you could consult a medical professional.
Gastrointestinal symptoms.COVID-19 might cause mild gastrointestinal symptoms, including a loss of appetite, nausea, vomiting, and diarrhea. These symptoms might only last one day. Some people with COVID-19 have diarrhea and nausea before developing fever and respiratory symptoms.
Skin changes.Younger people with less severe COVID-19 might develop painful, itchy lesions on their hands and feet that resemble chilblains, an inflammatory skin condition. Sometimes called COVID toes, this symptom typically lasts about 12 days. However, new research suggests that these lesions might be chilblains caused by sedentary behavior and failure to wear warm footwear during lockdowns, rather than COVID-19.
COVID-19 also has been reported to confuse older people, especially those with severe infections.
Eye problems. COVID-19 might cause eye problems such as enlarged red blood vessels, swollen eyelids, excessive watering, and increased discharge. The infection also might cause light sensitivity and irritation. These symptoms are more common in people with severe infections.
Hearing Loss. Researchers are looking into a possible connection between COVID-19 and hearing loss. Several reports document patients who have experienced hearing problems that coincide with a COVID-19 diagnosis. These issues often include tinnitus or ringing in the ears, persist even after other illness symptoms subside.
High Blood Sugar. According to a recent study, some older adults testing positive for COVID-19 had high blood sugar (or hyperglycemia). However, hyperglycemia is common among patients with any infection, not just a coronavirus infection. This may be especially important to diabetic patients, and COVID-19 continues to spread through the US.