Cow Creek Public Health Starts COVID Vaccines for Kids Under 5 Friday
Cow Creek Public Health will begin vaccinating children under the age of 5 for COVID-19 on Friday.
After more than two years of waiting for parents and kids, experts at the Centers for Disease Control and Food and Drug Administration have authorized shots for the youngest children. Both Moderna and Pfizer mRNA COVID-19 vaccines are now available for children between 6-months and 5-years-old.
To begin immediately providing for Tribal members and the community, Cow Creek Public Health has planned a special event to administer the pediatric Moderna and Pfizer doses right away.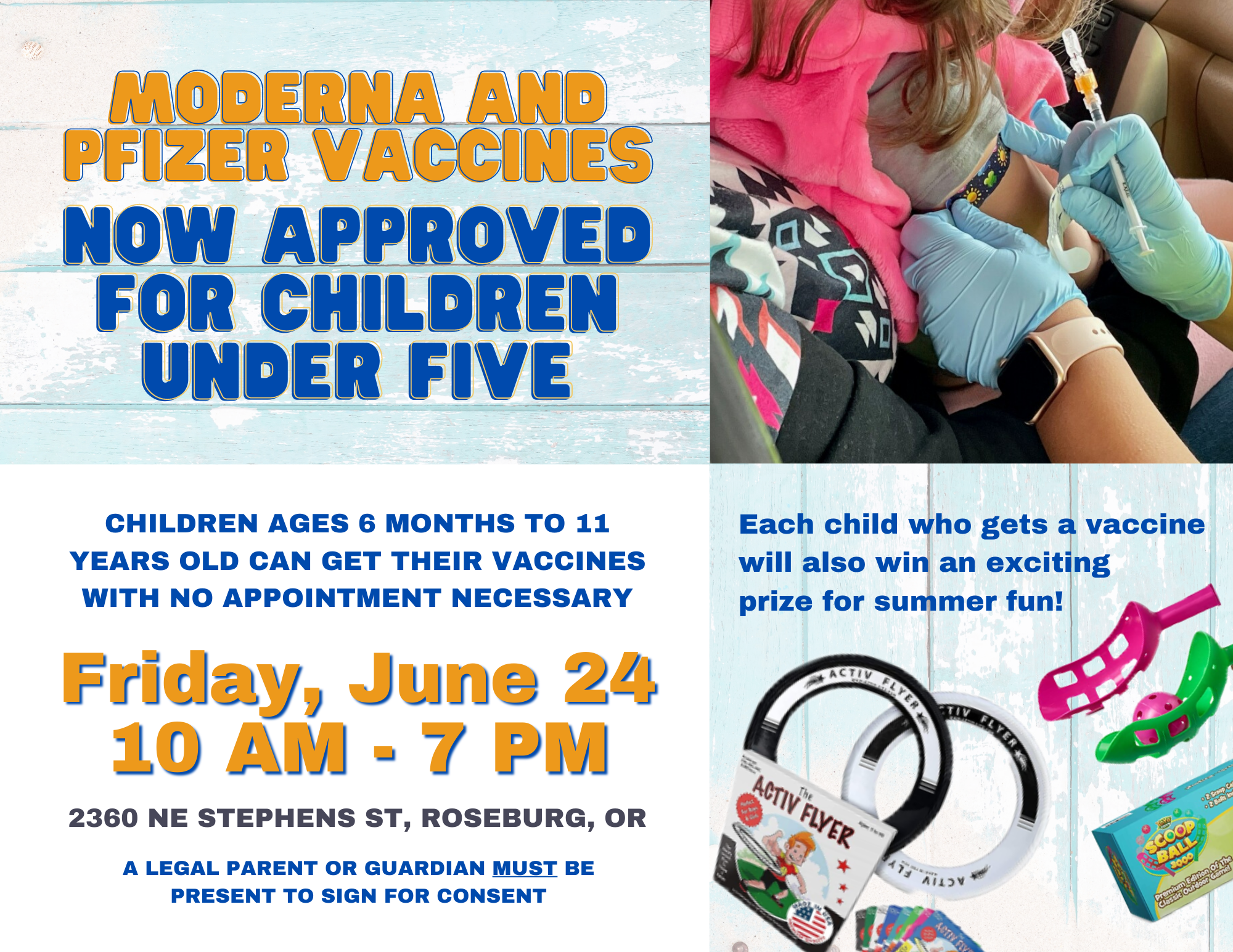 A pediatric vaccine clinic will be held on Friday, June 24 from 10AM-7PM at the mobile vaccine drive-thru site across the street from the Cow Creek Tribal Government Offices in Roseburg (2360 NE Stephens Street). Parents and guardians are invited to bring their children who are between the ages of 6 months and 11-years-old to receive their initial COVID-19 vaccine.
No appointments are required, and all community members are invited to participate.
Parents/guardians will be required to sign a consent form, and can expect to wait up to 30 minutes for observation after the child receives their vaccine.
Cow Creek Public Health is planning to hold a subsequent event for second doses in the coming weeks. More details about that event will be published as they become available.
If parents and guardians are unable to attend the Friday, June 24th event, Cow Creek Public Health plans to make the vaccine available during their normal hours at the mobile vaccine drive-thru site, but are still working through those operational plans. The mobile vaccine drive-thru site is currently open for COVID-19 primary and booster doses for all teens and adults on Mondays, Tuesdays and Wednesdays from 10AM-1PM, and 2PM-5PM.
Patients of Cow Creek Health & Wellness are also able to schedule a vaccine on Fridays only with an appointment. Call (541) 672-8533 to schedule an appointment. To speak with Cow Creek Public Health, call (541) 672-5535 for general questions about vaccines and availability. Parents and guardians are also encouraged to speak with their health provider for specific health questions.
Parents/guardians will be able to select which vaccine they want their child to receive. Moderna is two-shot series with four weeks in between doses. Data from the company touted between 37% and 51% efficacy against symptomatic COVID-19 infection, depending on the age of the child. Pfizer is a three-dose series; the first and second shots are three-weeks apart and a third shot is administered eight weeks later. Pfizer data claimed 80% efficacy.
The dosage for both Pfizer and Moderna is lower than the amount administered to adults. Side effects are similar to those experienced after most childhood vaccines (irritability, low-energy, pain at injection site, etc.).
Cow Creek Public Health is one of the first agencies in Douglas County to offer the pediatric vaccine. Traffic is expected around the mobile vaccine drive-thru site; Cow Creek Tribal Police will be on site during the event for traffic and crowd control.