COVID booster appointments now open to the public
Any person who wants to receive a booster COVID-19 vaccine from Cow Creek Public Health may now call to schedule their appointment.
The phone number to make an appointment is (541) 677-5535. If you are unable to speak directly with a team member of Cow Creek Public Health, leave a message. All voicemails will be returned within one hour, or the next business day if on a weekend or after hours.
Since early November, when boosters were first approved by the Centers for Disease Control, Cow Creek Public Health has administered 539 booster doses. At first, CCPH was only reaching out to individuals who received their COVID-19 vaccine primary series through the agency. Now, with all of those individuals called, CCPH has opened booster appointments to the public.
Qualifications for receiving a COVID booster have changed in the weeks since the first boosters were administered. Now, all adults (18 years of age and older) are approved to receive a booster shot if it has been six months or more since being fully vaccinated.
More info from CDC: Who can get a booster dose?
In addition to booster doses, Cow Creek Public Health has administered 69 pediatric Pfizer BioNTech shots to children ages 5-11.
Coming up on Saturday, December 4, Cow Creek Public Health will be partnering with the Oregon Health Authority to administer Moderna and Johnson & Johnson primary and booster doses to adults in Roseburg, as well as pediatric Pfizer doses to children ages 5-11. The event is scheduled from 10AM to 4PM at 1028 NE Stephens Street, and will be located in the parking lot of the former Umpqua Auctions business.
"The Bun Stuffer" food truck will be on site throughout the event. All individuals who receive a COVID vaccine or booster at the event, or who transport someone to get their vaccine, will receive a $15 voucher for "The Bun Stuffer" to be redeemed that day.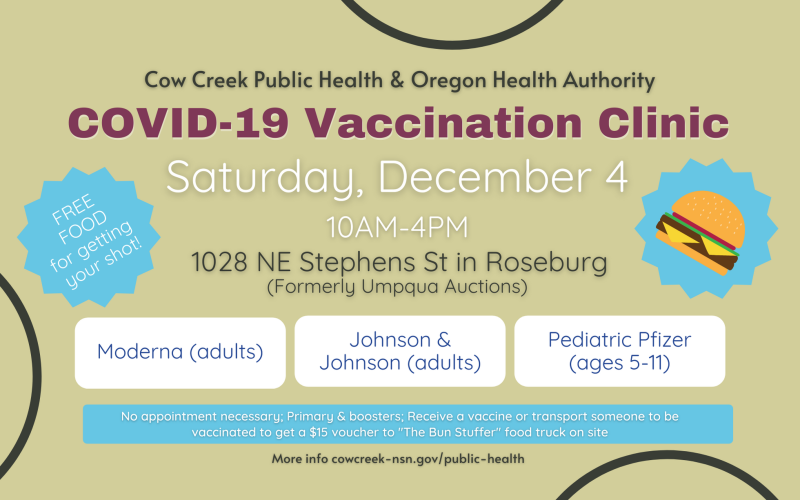 All vaccinations are taking place at the Cow Creek Public Health Mobile Vaccination Site located in the south parking lot of Seven Feathers Casino Resort in Canyonville, Oregon by appointment only (call (541) 677-5535 to schedule). The Mobile Site will be open Monday through Friday from 9:30AM to 2:30PM and will operate as a drive-thru location. All those receiving a booster dose are asked to bring their CDC-issued vaccine card for updating, as well as identification.