One Year to Be Prepared: Month 6 Checklist
Each month during 2023, the Cow Creek Band of Umpqua Tribe of Indians Emergency Management team will provide you a checklist for assembling emergency supplies and help you and your family think though various emergency scenarios. The monthly checklists will also prompt you to consider special circumstances, such as supplies for pets, elders, evacuation routes, and sanitation.
(For the complete list of One Year to be Prepared lists, click here)
Month Seven: Special Considerations
Kids and Teenagers
Kids and teens can be a huge help in preparing for emergencies, so it's important to include them in your plans.
Find fun preparedness activities, books, and games for kids at www.ready.gov
Encourage your kids to get involved in learning emergency skills; look for areas of interest or classes, such as CPR, first aid, gardening, outdoor survival skills, etc.
Be sure to pack special items for your kids and teens when building your kits:

Comfort items (favorite toys, blankets, stuffed animals, etc.) for younger kids
Crafts, safe tools, books, or music for older kids
Varied Abilities
Anyone can experience an access or functional need at any time, which may be physical, mental, emotional, socioeconomic, cultural, or language-based.
Mobility Challenges
Store emergency supplies in a pack attached to a walker, wheelchair, etc.
If you cannot use stairs, keep instructions for lifting or carrying techniques that work for you in your supplies.
Medical Supplies
Keep a two-week supply of medications or medical supplies (bandages, solutions, syringes, etc.)
Find guidance on keeping temperature-controlled medication cool
Get backup power sources for electrically-powered medical equipment
Visual / Hearing Challenges
Store glasses / hearing aids in an easy-to-access location.
Keep backup glasses and light sources.
Mental Health
Disaster-induced stress is a NORMAL reaction to an abnormal situation. During most disasters, mental health workers are available to help survivors, response workers, and others affected by the disaster. If you need assistance, help may be available from the American Red Cross, ADAPT, the Tribal Behavioral Health program, and more.
Planning
Special considerations are things to think about outside of your own personal needs. Who in your plan may have specific needs that you must consider?
Train or Be Trained
Your physical health and fitness matter! You will be putting a high demand on your body and mind during an emergency.
Consider what you need to work on to be of most help to others.
What is the hardest for you: flexibility, strength, or stamina? Focus on developing yourself where it is needed.
Supplies – Gather or Purchase
Add the remaining pet supplies for your Pet Kit.
Add the remaining supplies for your Go Kit.
Add another three days' worth of food and water to your supplies.
Add comfort food and your favorite snacks to your supplies.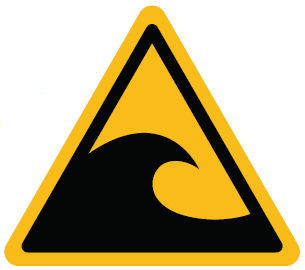 Tsunami Preparedness
As the weather improves, many head to the coast to cool off and have fun. Just be safe! Oregon has a long history of earthquakes, and it is probable that another could strike any time within the next 50 years. You can and should go enjoy the coast, but taking some very simple precautions can dramatically increase your chances of getting through a tsunami if it should happen while you are there.
What is a Tsunami?
A tsunami is a massive tidal wave caused by an underwater earthquake off the coast.
The earth will shake for 3-5 minutes at a rate that will make standing difficult
The ocean will rapidly recede away from the beach
Depending on the epicenter of the quake, the tidal wave will come back in 10-20 minutes, devastating low-elevation areas for miles inland
Where is the High Ground?
The safest place to be in a tsunami is on high ground, where the tidal wave won't reach. You can find it by:
Tsunami Preparations to Consider When Traveling to the Coast
Know where you are relative to the beach
Know where the actual high ground is, and how you are going to get there
Don't panic. As soon as possible after a tsunami begins, start moving
Go on foot – do not attempt to drive
You will have 10-20 minutes to reach high ground after a tsunami begins. If you keep moving, you can get there
You cannot outrun the speed of the water. Time spent moving upward is your best bet
There will be aftershocks, so settle in and hold on. Do not return to low ground, as there may be smaller tsunamis that continue for several hours
Help will be several days away. When things have settled down, make your way to shelter
You will have to fend for yourself for a few days after a tsunami, so be prepared for it
Help others if you can; you will likely be the only help they get in the beginning