Cow Creek and Other Tribes Testify About Economic Opportunities on Indian Lands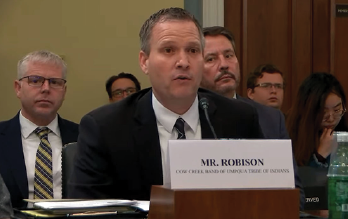 The Land and Resources Officer for the Cow Creek Band of Umpqua Tribe of Indians helped advocate for easier pathways toward Tribal economic self-sufficiency through land management before members of the U.S. Congress last month.
Jason Robison testified about the economic achievements of Cow Creek during the hearing "Unlocking Indian Country's Economic Potential," held by the U.S. House of Representatives Committee on Natural Resources' and Subcommittee on Indian and Insular Affairs.
Robison testified that the Cow Creek Umpqua Tribe has seen success as one of the first Tribes in the nation to work within the newly formed Indian Trust Asset Reform Act (ITARA) to manage Tribal trust forestlands.
"Our forest management under ITARA has been a resounding success resulting in a high level of sustainable timber production generating revenue to the Tribe for its governmental programs and providing jobs to local and state industries, as well as log supply to the local timber industry," Robison testified.
Other witnesses to the subcommittee included: Chairman Dustin Klatush of the Confederated Tribes of Chehalis Reservation in Washington; Chairman Joseph Rupnick of the Prairie Band of Potawatomi Nation in Kansas; and Vice Chairwoman Wavalene Saunders of Tohono O'odham Nation of Arizona.
As a group, the witnesses supported creating simpler, streamlined processes that eliminate red tape for moving economic developments forward in Indian Country, as well as updating outdated laws that hold Tribes back from self-sufficiency.
Chairman Klatush spoke of his Tribe's progress in opening the first brewery and distillery on Indian lands, which would have been illegal if a portion of a law from 1834 had not been recently repealed.
Vice Chairwoman Saunders said less than 100 miles of roads on her rural reservation on the Arizona-Mexico border had been maintained and updated because of funding and approvals getting lost in the federal bureaucracy. The Tohono O'odham Nation Reservation is roughly the size of the State of Connecticut.
Chairman Rupnick spoke of the 22-year process it took to have land taken into trust to build a retail shopping plaza and convenience store next to his Class III gaming facility.
"Nowhere in America other than Indian Country does this kind of bureaucratic stranglehold occur," said Chairman Rupnick.
To watch the entire hearing, click this link.